In other news
They're

talking

about

our

platform

in

the

media!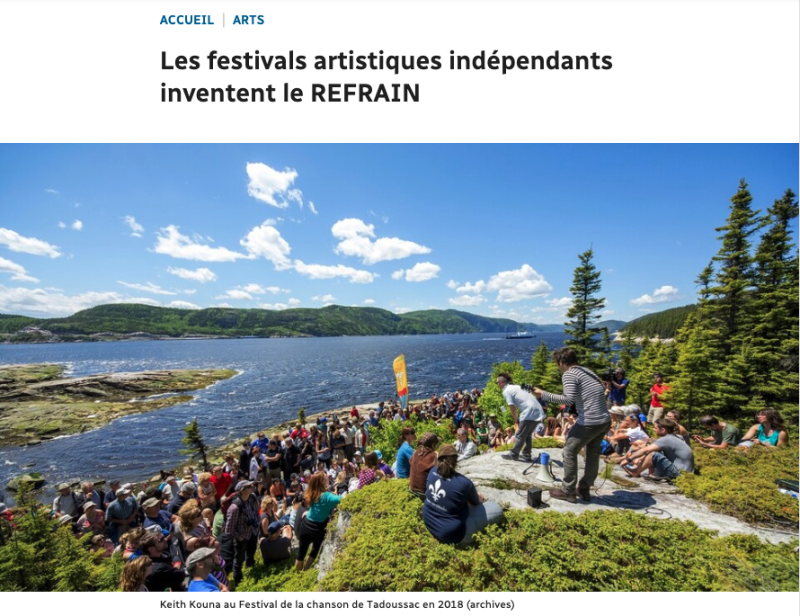 As you may have noticed over the last few weeks, our platform has gone live. Thanks to an extensive promotional campaign, we were finally able to present all our member festivals to as many users as possible. There have been some features about us in the media. Have you seen or read them? If not, here's a summary of what people have been saying!
First, there's Télévision régionale des Moulins [link in French], according to whom we're an "indispensable tool to increase the development, visibility and discovery of festivals." Radio-Canada [link in French], for its part, points out that "by joining forces to increase their digital visibility, REFRAIN's member festivals are strengthening their union, two years after the start of the pandemic, which led them to come together to help each other get through it." The popular show Salut Bonjour also stated that our platform is a tool that provides "a wonderful way to visit our province during the summer season."
The Cité Boomers [link in French] website wrote that our "platform aims to be an information gateway to guide, surprize, and inspire its visitors." Wow!
Our platform also gets its fair share of praise for its functionality and beautiful design. Myriam Bercier of the independent music site, Le Canal Auditif [link in French], describes very well everything that you can find on the platform: "The REFRAIN platform allows you to search for what you are looking for in terms of experience. Certain themes are also put forward to present festivals that have different characteristics, such as being near water, offering great beer, being in unusual places, or offering activities that are ideal for children."
In short, we'd like to thank these media outlets for their kind words about us. It inspires us to pursue our mission, which is to bring together, promote and allow for independent regional festivals to become key players in Quebec's social economy while encouraging tourism and cultural development throughout the province!